Nicole Travolta: Doing Alright
September 14
@
7:30 pm
–
9:00 pm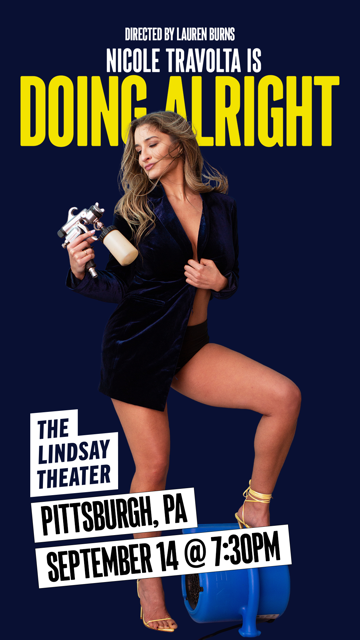 Nicole Travolta—actor, comedian, impressionist—brings her internationally touring comedy show to The Lindsay Theater and Cultural Center on Thursday, Sept. 14, at 7:30 p.m., in an exclusive, one-night engagement.
"We are fortunate that some of Nicole's friends in Western PA convinced her to select The Lindsay for her first performance in Pennsylvania," explains Carolina Pais-Barreto Thor, chief executive officer of the nonprofit cultural center. "Nicole just performed her show, Doing Alright, at the world-renowned Edinburgh Festival Fringe and promises to keep us entertained."
Travolta's one-woman show is a searing account of life as a compulsive shopper who freed herself from spiraling debt, shame, a messy divorce and the weight of a famous last name by a bizarre, real-life journey through the world of spray tanning. Surprisingly, it was a job she loved, and her impressions will introduce some of the eccentric characters she met to her audiences. (Travolta's social media shares hilarious impressions of Sex and the City characters Carrie Bradshaw and Samantha Jones, actors Drew Barrymore and Jennifer Coolidge, and disgraced Theranos leader Elizabeth Holmes.)
Through humor, Travolta lightens issues such as debt, depression, divorce, addiction and female empowerment—all of which Travolta has experienced first-hand. And she shares how this journey helped her find herself once more.
"I wanted to the audience to feel like they were going through the chaos of my life with me in real time, and I believe we achieved this. Getting to do my show in Western PA will be my first East Coast stop and I'm so excited! Sewickley is one of my favorite towns, and getting the opportunity to do this at The Lindsay Theater is a dream."
Co-written and directed by Lauren Burns, well-known main company member of LA's legendary comedy improv The Groundlings, Doing Alright debuted with sell-outs at the Groundlings, then moved to Las Vegas and Scotland, with sights on New York and London.
A Los Angeles Times review of Doing Alright notes Travolta "was incredibly honest and unafraid to talk about the aspects of money that are often considered taboo…. She coupled her best jokes with discussion about her lowest moments. Throughout the show, Travolta admitted that she's a work in progress, and for now, she's doing all right."