Done Waiting: The Rerelease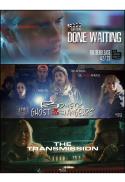 Pittsburgh-based production company RedSlate Films presents Done Waiting: The Rerelease.
This Red Carpet event features three new short films, all premieres, directed by Jesse Hutchins. He is a co-founder of RedSlate Films along with actors/producers Brian Ceponis and Brian Kadlecik, both of whom appear in all of the films, with Ceponis as the lead in each.
The program includes:
Done Waiting (63 min.)
No longer willing to wait for the police to find his wife, a husband takes matters into his own hands. With the help from an old friend he may get the revenge he wants.
The Transmission (8 min.)
A father and daughter follow a mysterious signal deep within the woods to discover something might not be of this world.
Redneck Ghost Rangelrs (20 min.)
A group of enthusiasts who call themselves the Redneck Ghost Rangelrs [misspelling intentional] take their first real gig. As the night unfolds they may not want to hunt ghosts again.
The screening will be followed by a Q&A session.
This event is free to the public but reservations are recommended as space is limited.