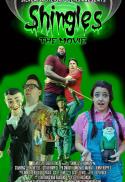 Award-winning horror film director Steve Rudzinski (CarousHELL, CarousHELL 2, Amityville Christmas Vacation) presents Shingles the Movie–a hilarious, weird, and bloody addition to the horror anthology genre.
This Red Carpet event is the theatrical world premiere of the horror/comedy produced by Rudzinski's Coraopolis-based Silver Spotlight Films, in collaboration with the Authors & Dragons collective, creators of the Shingles book series. The feature-length film brings five of those stories to the big screen, including "Just Say Gnome," "Aliens Wrecked My Kegger," "Zombies Ate My Homework," and more!
The screening will be followed by a Q&A session.
Big Spring Spirits, a community-centric craft distillery based in Bellefonte, Pa., will also be on hand with "Shingles-inspired" signature cocktails available for purchase.
This event is free to the public but reservations are recommended as space is limited.