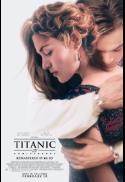 James Cameron's multi-Academy Award®-winning "Titanic" celebrates its 25th anniversary. With a cast headed by Oscar® winners Leonardo DiCaprio and Kate Winslet, the film is an epic, action-packed romance set against the ill-fated maiden voyage of the "unsinkable" Titanic, at the time, the largest moving object ever built.
As a program in our Science on Screen® series, the evening will begin with an informative discussion led by Dr. Brian Gleeson, the Harry S. Tack Chaired Professor of Materials Science and Chair of the Department of Mechanical Engineering and Materials Science at the University of Pittsburgh, specializes in physical metallurgy and the impact of temperature on metallic alloys and coatings. In his presentation "The Sinking of the RMS Titanic: Was Metallurgical Failure the Cause?", Dr. Gleeson will discuss how materials have advanced since the brittle steel that fails at low temperatures was used to build the luxury oceanliner that sunk in iceberg-strewn waters in 1912, killing 1,500 people.
Science on Screen® is an initiative of the Coolidge Corner Theatre, in partnership with the Alfred P. Sloan Foundation.
Frances Fisher
Victor Garber
Billy Zane
Suzy Amis
Bernard Hill
David Warner
Danny Nucci
Gloria Stuart
Jonathan Hyde
Kate Winslet
Kathy Bates
Leonardo DiCaprio
Bill Paxton