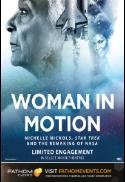 In 1977, with just four months left, NASA was struggling to recruit scientists, engineers and astronauts for their new Space Shuttle Program. That is when Nichelle Nichols, Star Trek's Lt. Uhura, challenged them by asking the question, "Where are my people?" With NASA's backing, she embarked on a national PR blitz, recruiting 8,000 of the nation's best and brightest, including the trailblazing astronauts who became the first African American, Asian and Latino men and women to fly in space. This is her—and their—story.
As a program in our Science on Screen® series, Elena Petrak, senior quality assurance engineer at Astrobotic, the CMU spin-off building lunar landers on Pittsburgh's North Side, will give the brief presentation "Now Launching: Engineering, Lunar Landers and Alternative Pathways to STEM Careers."
Lauren Shalek, manager of operations and visitor services, and Mike Hennessy, manager of programs and learning at the Moonshot Museum, will share information about Pennsylvania's first space museum, which encourages the next generation of space engineers with views of behind-the-scenes assembly action.
The event recognizes March 28 as National Day of Science on Screen. Science on Screen® is an initiative of the Coolidge Corner Theatre, in partnership with the Alfred P. Sloan Foundation.
George Takei
Neil deGrasse Tyson
Walter Koenig
Nichelle Nichols
Al Sharpton
Rod Roddenberry
Martin Luther King III
Michael Dorn